CLICK HERE TO SUPPORT ON INDIEGOGO
PLAYING CATCH UP
Volumes of Blood Killectors Edition
Volumes of Blood Horror Stories
---
A horror anthology, made for horror fans by horror fans! Our goal from day one was to bring fans of the genre something cool, innovative and fun in the realm of horror anthologies. We've created two films that have resonated with audiences and now we're asking for their support one final time. Help us cap off this blood soaked franchise with the biggest and best installment with Devil's Knight: Volumes of Blood 3.
---
Right now PJ and Eric are looking for help, to make the final film for the Volumes of Blood Trilogy. However they need your help, with a indiegogo goal of $15k. And this finale is packed with a great cast and crew.
Directors: Brooklyn Ewing | John William Holt | Amber Langston
Cinematographer: Austin Madding
Wardrobe Designer: Barbie Clark
Special Effects Supervisor: Cassandra Baker
CAST: Ariel Reams, Brittany Picard, Christopher Bower, Daniel Alan Kiely, David McMahon, Donald R. Fleming, Garrett Smith, Gerrimy Keiffer, Grant Niezgodski, Harper Dawahare, J. Michael Byrne, James Stokes, Jason Crowe, Jerry Bradshaw, Jillian Carpenter, Julie Ann Prescott, Katie Stewart, Lucy Turner, Matt Green, Ryan Matthew Ziegler, Olivia Jacobs, Patrick Keegan Taft, Sabrina Ward, Sonya Delormier, Tiffany Arnold, Todd Reynolds, Tyler Riley.
Plus the following names.
---
And from there Indiegogo, this is why they need help with funds.
Volumes of Blood was always intended to use practical special effects and we've got a crimson drenched track record to prove it. Devil's Knight is no different. It is VERY special effects heavy with over 40+ individual kill sequences, your contributions will be helping us achieve those kickass practical effects that we all love.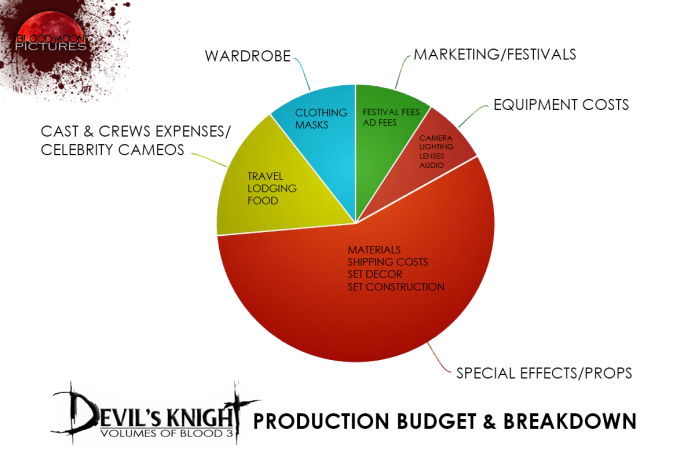 The remaining budget will be divided between securing talent, wardrobe, camera equipment, travel, lodging, food, promotions and marketing and more.
We have some pretty awesome perks from an Exclusive Digital Devil's Knight Poster that you can only get by contributing and created by the insanely talented Michael Broom, who has worked on dozens of motion pictures and television projects including The Walking Dead, American Horror Story and Blade Runner 2049. You can follow Michael Broom at http://www.instagram.com/michaelbroomart/. There are also tons of other cool things like Blu-rays, pop sockets, a chance to own the Volumes of Blood trilogy, chances to see your face in the film, t-shirts, sound tracks and more!
OUR IMPACT:
First and foremost our anthology series is about creating interesting characters, kickass narratives and palpable horrors. To date the franchise has had over 200 talented lovers of the genre work on the films proving our goal of making horror films for fans and by the fans. We'd absolutely love to finish off the series by doing that again, bringing in the best indie horror has to offer to finish this franchise off right and only you, the contributor, can help us do that.
`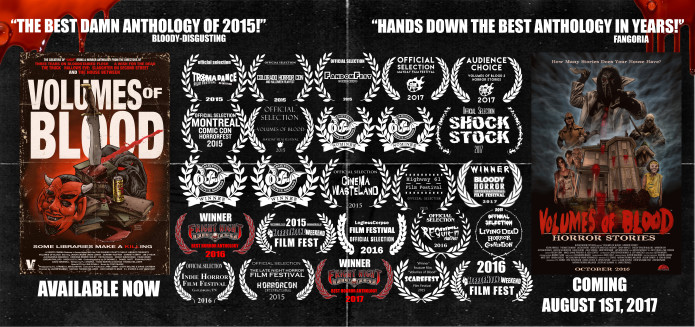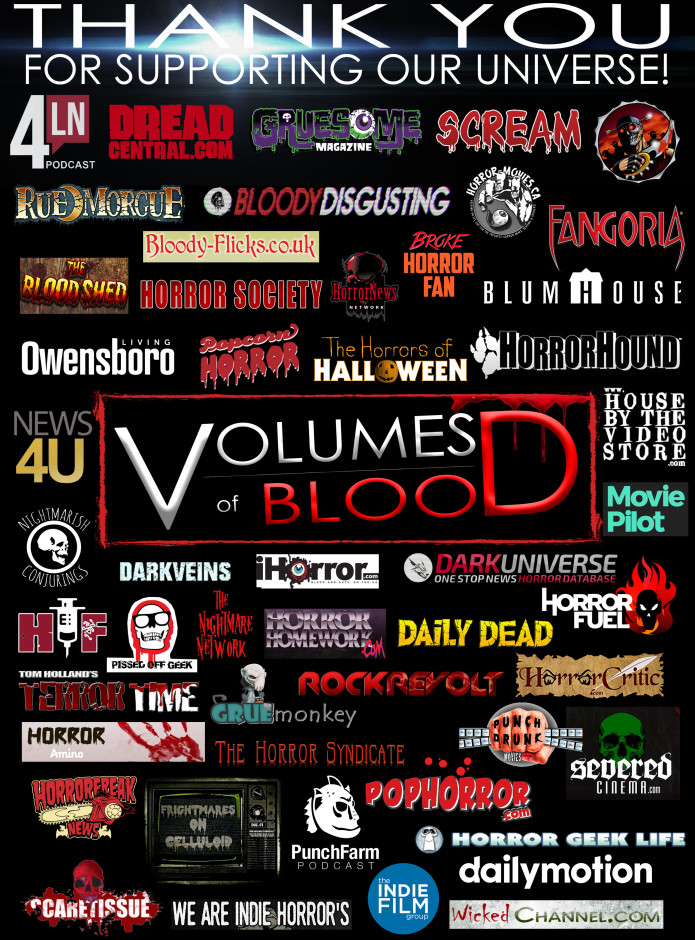 Volumes of Blood has obtained a level of success within the horror community and abroad getting coverage in international publications such as Rue Morgue, HorrorHound Magazine and Scream The Horror Magazine; been featured in over 550+ online articles; received critical acclaim for all the major players in horror news such as Dread Central, Bloody-Disgusting, Horror Society, Fangoria, PopHorror, Horror Fuel, Fitz of Horror, Escape Pod Podcast, The Horror Syndicate and many many more; was called a "cult hit franchise" by Blumhouse! Need we say more?
CREATING IS ALWAYS A RISK:
Blood Moon Pictures, our associated filmmakers and affiliates have a very strong track record with two completed, heavily promoted and distributed films in the franchise. There is no doubt that our team will create and finish the third and final installment in the franchise.
Our team has encountered hurdles in the past, none of which has stopped us from completing a film on time and on budget. Part of the creative process is encountering problems and finding creative solutions to overcome them.
Other Ways You Can Help:
Please check out our campaign and considering contributing. If you can't then take a moment to share the campaign using the Share Tool available or simple posting the link on FB, Twitter and the like. Thank you so much and we hope you'll consider supporting the many talented directors, writer, actors and crew to help us complete our trilogy with Devil's Knight: Volumes of Blood 3.
---
CLICK HERE TO SUPPORT ON INDIEGOGO