Developed by Antagonist is a small independent game studio based in Oslo, Norway, & published on Oct 27, 2016 (PC) & May 1 2018 (Consoles), by 1C Entertainment, "Through the Woods" is a third-person Norse horror adventure game set in a forest on the western shores of Norway that tells the story of a mother and her missing son. Available on PS4, Xbox One and PC (Through Steam and GOG.com stores.)
Official trailer:-
Through the Woods is a third-person Norse horror adventure set in a forest on the western shores of Norway that tells the story of a mother and her missing son. Through reactive narration, the player experiences the mother's re-telling of the events surrounding her son's disappearance. Players follow the path of a terrified woman who has forced herself to enter this terrible place for the sole purpose of finding her son, in a setting heavily influenced by Norse mythology and Norwegian folk tales.

With Through the Woods, Antagonist have captured the feeling of the forest as they saw it as children, with all the fear and mystery that comes from roaming through it alone. This is coupled with a powerful story and high quality sound design, which in the darkness of the forest becomes a core mechanic. Through the Woods is a profound experience that directly delivers the feelings of loneliness and loss in a terrifying place…

FEATURES
Explore stunning environments and experience stories inspired by Norse mythology, Norwegian art and nature
Uncover dark tales of the past and present through reactive narration
Creative use of light and darkness generates deceptive environments
A frightening journey accompanied by beautiful and grim sound design
REVIEWS:-
"What makes Through the Woods so lovely from a horrific standpoint, is that the game's scare tactics are utilized on so many levels. Not knowing what is in the dark, heck even knowing it is worse, adds psychological and subdermal layers fear, tainting every step throughout the luscious scenery."
89 – Gamephasis

"If you're a fan of survival horror games, Through the Woods is a mesmerizing experience you'll want to encounter. Sometimes the deep emptiness of a rich forest is enough to give you goosebumps."
80 – NerdReactor

"It's rare these days that any game comes close to emulating the walking nightmare nature of the original three Silent Hill games, but the 'double protagonist' of the real-time and voiced-over mother, beautiful yet desolate environments, and the jarring, painfully honest story make Through the Woods one of the most compelling horror games of the year."
92 – GameTimeReviews
ABOUT Developer:-
Antagonist is a small independent game studio based in Oslo, Norway, founded in 2014. The team is focused on creating narrative-driven titles with epic stories and great gameplay
COLLECTOR'S EDITION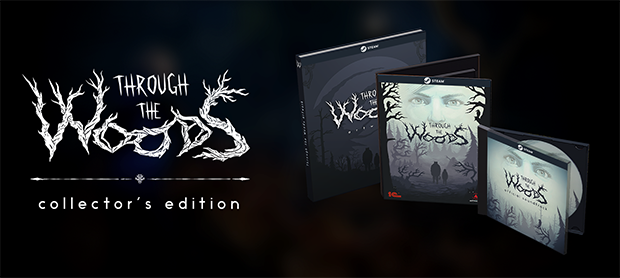 Through the Woods will be also available as a digital Collector's Edition, featuring an artbook and soundtrack from the game.
Thank you so much for reading this! Please share your thoughts with us by leaving a comment below.
For more news and reviews of horror games like this, please support EHPodcasts by sharing this post, liking our Facebook page, subscribing to our YouTube channel , following us on Twitter ,Instagram and listening to our podcasts, now on many platforms given below:
KEEP UP WITH THE PODCAST
Please Bookmark our site or Set as your Home Page:- http://ehpodcasts.com
Please Donate via PayPal to help the noble cause of promoting horror genre & indie horror creators:– http://paypal.me/ehpodcasts
EHPodcasts on SOCIAL MEDIA
FaceBook:- http://facebook.com/EHPodcasts
Twitter:- http://twitter.com/EHPodcasts
Instagram:- http://instagram.com/EHPodcasts
Pinterest:- http://pinterest.com/EHPodcasts
LISTEN TO US ON
PodBean:- http://bit.ly/EHPodbean
YouTube:- http://bit.ly/EHPodcastYT
iTunes:- http://bit.ly/iTunesEHP
Alexa:- http://bit.ly/EHPAlexa
Spotify:- http://bit.ly/EHPSpotify
Stitcher:- http://bit.ly/EHPStitcher
Google Play Music:- http://bit.ly/EHGooglePlay
TuneIn:- http://bit.ly/EHPTuneIn
Stay Scary & Support Indie Horror Games!