You are what she eats!
GHOUL is a horror film set in Las Vegas starring Maria Olsen ( The Lightning Thief, Paranormal Activity 3, American Horror Story and Rob Zombie's Lords of Salem, I Spit on Your Grave: Deja Vu, Axeman 2: Overkill), Julie Anne Prescott (Meathook Massacre 4, Deadly Dares: Truth or Dare Part IV), Drew Marvick (Axemas 2: Blood Slay, Pool Party Massacre), Taylor Kilgore (The Immortal Wars 1 & 2, Rust 1 & 2), David E McMahon (Bonehill Road), Selena D (Party Bus to Hell), Ken May (Meathook Massacre 4), and John R Walker (The Amityville Playhouse), plus more to come!
The GHOUL story in a nutshell…
Karla a free-lance photographer moves into a new house in Las Vegas and thinks it's haunted. A few people (a low-life thief, a creepy handy-man, an angry neighbor, and a few more) get brutally murdered by something horrible (the Ghoul) that is living in the attic. It's pretty much a one location shoot. It will be a partial found-footage film.
The campaign on Crowdfunding platform IndieGoGo is live with US$5000 goal and only 20 Days remaining! The rewards start from US$5 and include IMDb credit, in-film credit, Digital Poster,Digital Copy of the film, even visits to the set for Las Vegas residents and physical copies shipped to the US residents.
Official IndieGoGo Trailer:-
Information Provided by the Creators:-
Short Summary
Hello everyone! Dark Park Films and 1313fx are back for our second feature film! Our first feature film, MEATHOOK MASSACRE 4 (co-produced by SoCal Cinema), has been released and we are ready for our second feature film, GHOUL! Over the last few years Dark Park Films and 1313fx have made two extended short Christmas themed slasher films called, AXEMAS and AXEMAS 2: BLOOD SLAY (parts 3 & 4 coming soon!), two short found footage films ("If I Can't Have You", "Cannibal") for VHS VIOLENCE 1 & 2 (co-produced by SoCal Cinema), and one sci-fi horror short (SKELEVIL) for the anthology series TALES FROM THE GRAVE (co-produced by SoCal Cinema). John Ward will be producer, writer and director on GHOUL. Miranda Dudley (1313fx, BloodMetal Makeup Artistry) (Axemas 1 & 2, Meathook Massacre 4, Killjoy's Psycho Circus, War Ghost, and many more) will be creating all the ghoulish effects!
The film is important to us because it is our first big budget feature (for an indie film) that we have made. We are hoping that GHOUL will launch the careers of many of the cast and crew into the mainstream (Hollywood here we come!). We also want to scare the bejesus out of the viewer! We feel that GHOUL is unique and original. It will be indie enough for the underground, but commercial enough to make Hollywood notice it. GHOUL was an original idea for VHS VIOLENCE 1. The director, John Ward, held on to the short film idea and turned it into a feature length script.
Because this is a big budget indie film we need your help. If we don't have contributors, we (and you) don't have GHOUL. Like we said, this is a unique horror film. YOU can make it happen. YOU can be part of the filmmaking processes. The director, the effects artist, the actors are important, but without YOU there is no film. GHOUL will never exist! The people that contribute to GHOUL are the most important people this film can have. Please contribute and be part of GHOUL history!
What We Need & What You Get
This is where we get serious. Let me break it down for you:
We are looking at a budget of $5,000 to make GHOUL. We want this to be the best biggest and best film we have made so far. The $5,000 budget would go to; Paying cast and crew. Top notch effects. Travel and lodging. Meals. Props. Costumes. Permits (if needed). Pre-production, Production, Post-production costs. And, advertising for the film.
What do YOU get for being a contributor?
You can pick the PERK that would fit your budget. You could get IMDB credit, beginning and/or ending film credit, digital and/or DVD copies of the film when finished, a digital poster and/or signed poster (see above for poster), film prop, a producer credit, visit the set (if you live in the Las Vegas Area) and more!
*Visit to the set is for Las Vegas residents only (unless other plans are made with the producer)
*Shipping is for United States only (unless other plans are made with the producer)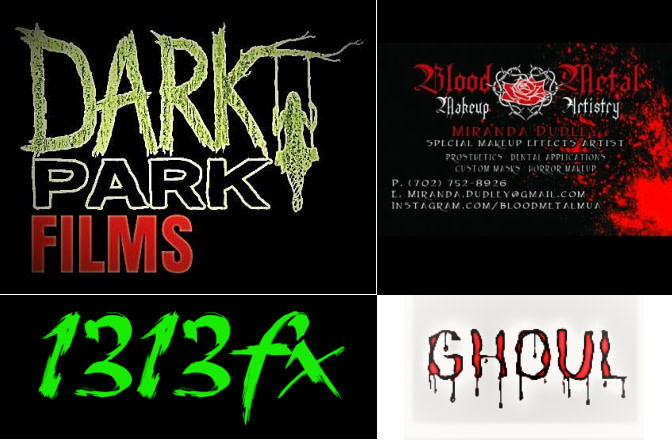 The Impact
Here's the cool thing! All of our films have had distribution. GHOUL has already had a few distributors contact us about distribution. That's without one frame of film being shot! Dark Park Films has had so many actors contact us that a sequel is already planed! Both AXEMAS 1 & 2 and MEATHOOK MASSACRE 4 have been well received by fans and critics that we are positive that the same love will be given to GHOUL. Just look at that poster drawn by Joe Meredith! So, the good this is when you contribute to GHOUL you're assured that the film will get distribution and not sit in someone's hard-drive for years. We will also get it into as many film festivals as we can.
SUCCESSFUL PAST WORK (Trailers):-
Other Ways You Can Help:-
Some people can't contribute, and that's okay, but that doesn't mean you can't help: Spread the word about GHOUL! Getting the Ghoul-ish news out there helps so much. And that's all there is to it!
CONTACT Mr. John Ward ( The Writer and director of GHOUL, AXEMAS 1 & 2, Meathook Massacre 4, Skelevil, and more! ) on Twitter:- https://twitter.com/JohnLWard666
CONTACT 1313fx for more info (Official Website):- https://www.1313fx.com/
LISTEN TO THE INTERVIEW:-
Thank you so much for reading this! Please share your thoughts with us by leaving a comment below.
For more news and reviews of horror movies like this, please support EHPodcasts by sharing this post, liking our Facebook page, subscribing to our YouTube channel , following us on Twitter ,Instagram and listening to our podcasts, now on many platforms given below:
KEEP UP WITH THE PODCAST
Please Bookmark our site or Set as your Home Page:- http://ehpodcasts.com
Please Donate via PayPal to help the noble cause of promoting horror genre & indie horror creators:– http://paypal.me/ehpodcasts
EHPodcasts on SOCIAL MEDIA
FaceBook:- http://facebook.com/EHPodcasts
Twitter:- http://twitter.com/EHPodcasts
Instagram:- http://instagram.com/EHPodcasts
Pinterest:- http://pinterest.com/EHPodcasts
LISTEN TO US ON
PodBean:- http://bit.ly/EHPodbean
YouTube:- http://bit.ly/EHPodcastYT
iTunes:- http://bit.ly/iTunesEHP
Alexa:- http://bit.ly/EHPAlexa
Spotify:- http://bit.ly/EHPSpotify
Stitcher:- http://bit.ly/EHPStitcher
Google Play Music:- http://bit.ly/EHGooglePlay
TuneIn:- http://bit.ly/EHPTuneIn
Stay Scary & Support Indie Horror Movies!