Lumina is a first person puzzle game where you use lasers to escape a pyramid! As an archaeologist, unlock the secret of the ancient pyramid and solve complex puzzles using lasers to escape alive!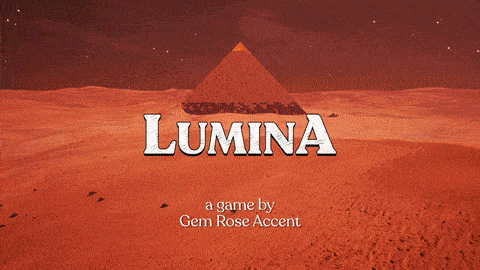 Spoiler-Free Review:
This game feels isolated like Resident Evil 7 but with house replaced with the interiors of an Egyptian Pyramid and creepy statues, it has physics based laser light puzzles which remind you of Portal's innovative physics based trial and error puzzle solving methods. The creepy messages remind you to escape the pyramid as quickly as possible or face an evil spirit…With 18 puzzle levels and a story that sounds simple but keeps you intrigued till the end. That's Lumina, an upcoming game for PC and Mac by Gem Rose Accent releasing on Oct 9th 2019 on Steam.
The graphics, even on the lowest settings, are realistic and beautiful. The music is nice and the gameplay is simple yet satisfying. The laser puzzles use the physics of lasers and as the levels increase, so does the difficulty. Changing the positions of the mirrors and doing some trial and errors helps you move ahead in the game to know more about the diseased pharaoh, the mystery of the pyramid and also the fate of the archaeologist that is stuck in this pyramid, which you are controlling in this game. For horror fans, there's isolation, creepy messages and harmless yet eerie scorpions all over the place. There's a subtle tension which helps create an uneasy horror or at least suspense thriller-like atmosphere. The trailer shown on Steam page also has some hints of paranormal element in it. If you are a horror and puzzle fan, this is an indie game that you should definitely check out.
Watch the First 13 Minutes of the Game here:
ABOUT THIS GAME
Lumina is a first person puzzle game where you use lasers to escape a pyramid!
As an archaeologist in 1920, you find an enormous forgotten pyramid in the desert, the lost pyramid of Ka-Nefer. After setting camp nearby, you decide to start the exploration. It is too late when you realize you got trapped in the pyramid!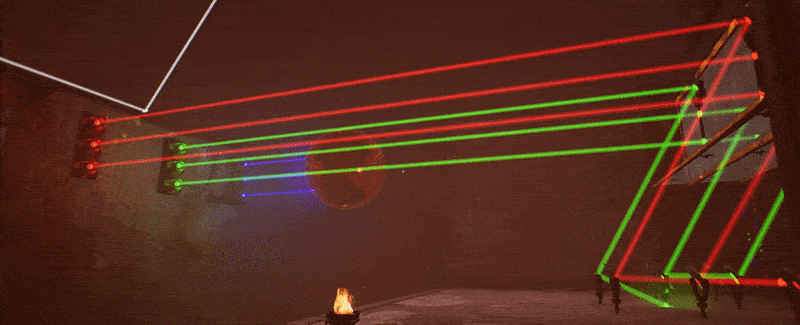 The only escape are locked gates that open with colored light. You will have to use your skills to combine, split and reflect beams of lights using mirrors and prisms, while avoiding the ancient dangers that are buried deep in the pyramid.
Will you manage to steal the hidden treasures and make it out alive without awakening the dark forces that were meant to remain forgotten?
WHO IS THIS GAME FOR?
Do you enjoy games such as The Talos Principle, Portal, The Turing Test, Q.U.B.E. and The Witness? Then Lumina is right up your alley!
IS THERE A STORY?
Yes, the game includes a story inspired by H.P. Lovecraft's works and two endings depending on how you behave.
WHO IS MAKING LUMINA?
Lumina is being developed by Gem Rose Accent, a small indie studio from around the world (UK, France, Singapore).
FEATURES
Solve the puzzles left by an ancient civilization using mirrors and prism to combine, split and bounce beams of light.

Explore the lost pyramid of Ka-Nefer. Delve into the depths of the pyramid and uncover the terrible secrets of the pyramid.

18 Handcrafted levels of increasing difficulty to put your mind to work. Will you manage to uncover the game's additional secret levels and hidden areas?

Danger increases as you go deeper and deeper in the sealed tombs.

Two endings, depending on your behavior as an archeologist.

Secret scorpion AI technology to give extra life to the scorpions in the desert
Lumina releases on Steam on October 9th 2019 for PC & Mac. DEVELOPER:Gem Rose Accent, Corentin Derbré PUBLISHER:Gem Rose Accent
Portal game footage (For reference):
Thank you so much for reading this! Please share your thoughts with us by leaving a comment below.
For more news and reviews of horror games like this, please support EHPodcasts by sharing this post, liking our Facebook page, subscribing to our YouTube channel , following us on Twitter ,Instagram and listening to our podcasts, now on many platforms given below:
KEEP UP WITH THE PODCAST
Please Bookmark our site or Set as your Home Page:- http://ehpodcasts.com
Please Donate via PayPal to help the noble cause of promoting horror genre as well as indie horror creators & help us bring the latest horror stuff for you:– http://paypal.me/ehpodcasts
EHPodcasts on SOCIAL MEDIA
FaceBook:- http://facebook.com/EHPodcasts
Twitter:- http://twitter.com/EHPodcasts
Instagram:- http://instagram.com/EHPodcasts
Pinterest:- http://pinterest.com/EHPodcasts
LISTEN TO US ON
PodBean:- http://bit.ly/EHPodbean
YouTube:- http://bit.ly/EHPodcastYT
iTunes:- http://bit.ly/iTunesEHP
Alexa:- http://bit.ly/EHPAlexa
Spotify:- http://bit.ly/EHPSpotify
Stitcher:- http://bit.ly/EHPStitcher
Google Play Music:- http://bit.ly/EHGooglePlay
TuneIn:- http://bit.ly/EHPTuneIn
Stay Scary & Support Indie Horror Games!