After winning the hearts of fans and critics, Asobo Studio's A Plague Tale: Innocence has won "Outstanding Story-Rich Game" Steam Award 2019 through user votes for nomination and then, votes to make it victorious. A truly gripping and emotional game that definitely deserves to be in any horror fan's collection has become more popular thanks to this new accolade.
Award description says: " Some days, only a narrative-heavy game will hit the spot, and this one packs a wallop. It's as gripping as any soap opera, and as well-tuned as a prestige-TV screenplay. Bravissimo — for making us feel things! "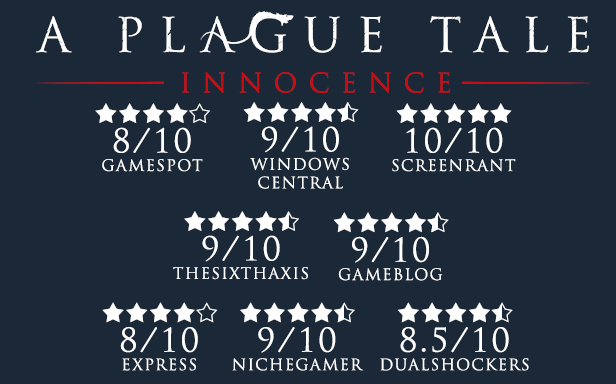 We had reviewed the game when it came out and also was a game on our wishlist even before it was released.
Synopsis:
Follow the grim tale of young Amicia and her little brother Hugo, in a heartrending journey through the darkest hours of history. Hunted by Inquisition soldiers and surrounded by unstoppable swarms of rats, Amicia and Hugo will come to know and trust each other. As they struggle to survive against overwhelming odds, they will fight to find purpose in this brutal, unforgiving world.
1349. The plague ravages the Kingdom of France. Amicia and her younger brother Hugo are pursued by the Inquisition through villages devastated by the disease. On their way, they will have to join forces with other children, and evade swarms of rats using fire and light. Aided only by the link that binds their fates together, they will face untold horrors in their struggle to survive.As their adventure begins… the time of innocence ends.
Steam Product Page. 
Check out Xbox Store for Xbox One 
Thank you so much for reading this! For more news and reviews of horror games like this, please support EHPodcasts by sharing this post, liking our Facebook page, subscribing to our YouTube channel , following us on Twitter ,Instagram and listening to our podcasts, now on many platforms given below:
Horror Needs You! Please Donate via PayPal to help the noble cause of promoting horror genre & indie horror creators:– http://paypal.me/ehpodcasts
KEEP UP WITH THE PODCAST
Please Bookmark our site or Set as your Home Page:- http://ehpodcasts.com
EHPodcasts on SOCIAL MEDIA
FaceBook:- http://facebook.com/EHPodcasts
Twitter:- http://twitter.com/EHPodcasts
Instagram:- http://instagram.com/EHPodcasts
Pinterest:- http://pinterest.com/EHPodcasts
LISTEN TO US ON
PodBean:- http://bit.ly/EHPodbean
YouTube:- http://bit.ly/EHPodcastYT
iTunes:- http://bit.ly/iTunesEHP
Alexa:- http://bit.ly/EHPAlexa
Spotify:- http://bit.ly/EHPSpotify
Stitcher:- http://bit.ly/EHPStitcher
Google Play Music:- http://bit.ly/EHGooglePlay
TuneIn:- http://bit.ly/EHPTuneIn
Stay Scary & Support Horror Games!