Without spoiling, we review the 100 paged graphic novel called "Zombies We Are Human Too" Volume 1 by Austin Janowsky with contributions by many creators and successfully crowd funded on the Kickstarter crowd funding platform. We tell you why it's so unique and why you should also look forward to the Volume 2, which is going to launch on Kickstarter on June 10th, 2020. A unique never before seen empathetic take on zombie victims and infection.
Synopsis:
Originally to showcase Charles Casey, Sonya Thompson, and Larry Mainland of The Walking Dead TV Show, the story has morphed and is now about.
Three kids foraging for food who get spooked by zombies and chased into an abandoned warehouse. The youngest of the three is terrified, so to calm him down, the older two kids start picking out zombies they see and make up funny stories about them: Who they were, how long they lasted and how they died in a funny way. This is a completely new spin on the zombie genera.
Spoiler-Free Review:
There are many zombie horror comics, books, movies, and games about the journey of survivors of zombie apocalypse but rarely do we see a unique take on zombie horror genre. Usually we feel that "it's just another zombie product" when we see a new zombie movie or book but that's the pattern this comic book wants to break as it has the survival horror combined with humor and empathy towards the victims of zombie infection. It never tries to make a case for protecting zombie rights or cannibalism, but what it tries to tell us is that everyone seems to have made some mistake or taken the zombie apocalypse for granted which resulted in their zombie infection.
Zombies We Are Human Too Volume 1 graphic novel / comic book with 100 pages, tells us various stories of how some zombies became zombies and what they did before becoming a zombie. The survival horror is still there as the main story connecting all of these smaller zombie origin stories is about 3 youngsters being trapped in a building and thus, telling the youngest friend stories about the zombies he sees from the window so that his fear is lessened, and his attention goes away from the worries of the zombie apocalypse. So, many of the stories are theories of "what must have occurred" and while some are memories of the two characters telling about the people they knew and how they became zombies.
The idea of making the reader see the origin of zombie stories is very innovative, and not fully explored by the mainstream zombie media as they focus too much on the protagonists and action. In this horror comic, there are many interesting stories which not only tell how the zombies became zombies but also, how the zombie infection began, spread throughout the city and then the world. We see some humorous stories about bunch of people playing in casino even while there's a zombie apocalypse going on, then there are some sad stories too, but there's less emphasis on sad or cruelty as there is an exploration of zombie dynamics, and sometimes zombie psychology as well. We see some never before thought stories like the aftermath of the zombie apocalypse and what happens when everyone is a zombie and there's no human around for a zombie to eat. All of the stories are interesting, and never get too boring or illogical. There is an ample amount of action and scares to make a zombie horror fan happy.
The mini stories are often created by different creators and the credit is given at the end of each story. The main story of 3 kids has the consistent illustration, color, lettering and art style. The mini stories have different art styles, and some are even like black and white sketches. The black and white tone makes them easy to recognize that it's a memory or a zombie origin story. The best thing about this graphic novel is that the speech bubbles contain only relevant and short sentences, thus, you are not made to read paragraphs of speeches in the form of dialogues. There is also a sense of direction when it comes to the scenarios, and the movements of the characters. The main story isn't finished in this volume but that's why Volume 2 and Volume 3 are planned for. Consider the main story as a medium to tell us many beautiful stories while giving us 3 likeable characters to comment on each story.
Overall, the 100 pages of Zombies We Are Human Too is filled with ample content to entertain you, make you feel the emotions of the victims, and some scary survival scenarios to make you feel afraid. The main story of 3 kids is effective as the character development is good which makes you love them. The mini stories have a great variety to them, have many lessons for real life too, like that of not over-using mobile phone, how greed is bad, how humans destroyed the environment before the zombie apocalypse occurred, and then there's the most important message of the value of our life because we take the life for granted until there's a global emergency like war, or pandemic. There's even an example of Plague given in the book, which draws scary parallel to the fictional zombie apocalypse we all love, and yes, the real life global virus threats endangering the safety of everyone. So, with such a depth, any horror fan will find something to love about this graphic novel, and the volume 2 which is on Kickstarter, looks as promising.
Sample Pages From crowd funding platform:
Main Story
(w)Austin Janowsky and (a) Mauricio Campetella's Zombies We're Human Too
Three kids out foraging during a zombie apocalypse. While looking for food they get spooked by zombies!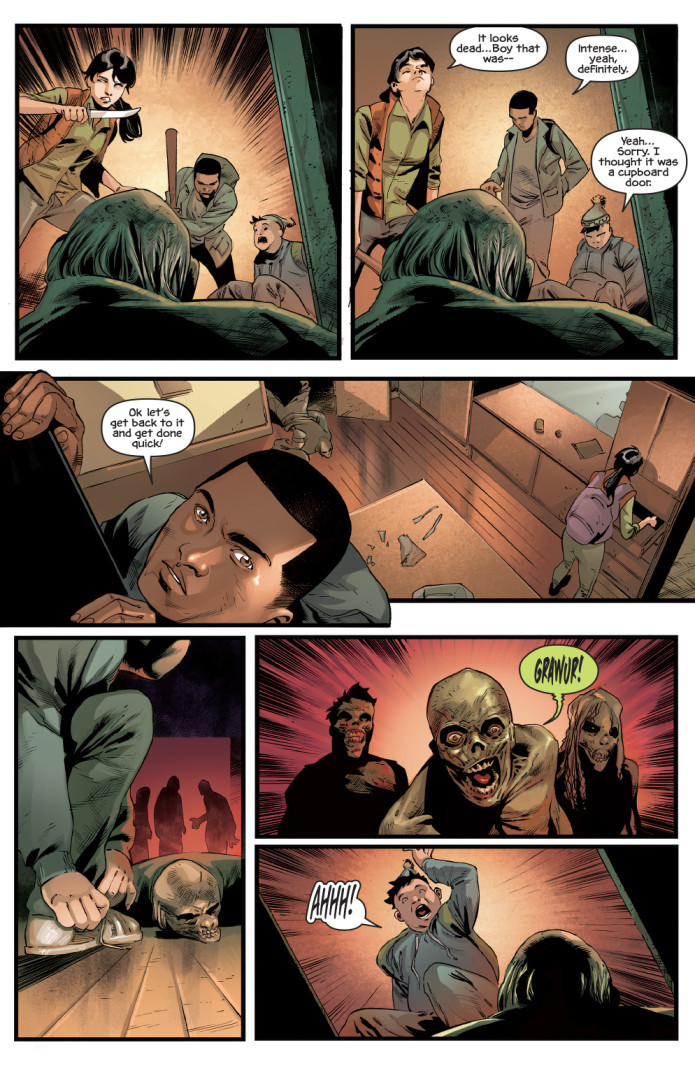 They get chased out of the house and down the road to an abandoned warehouse.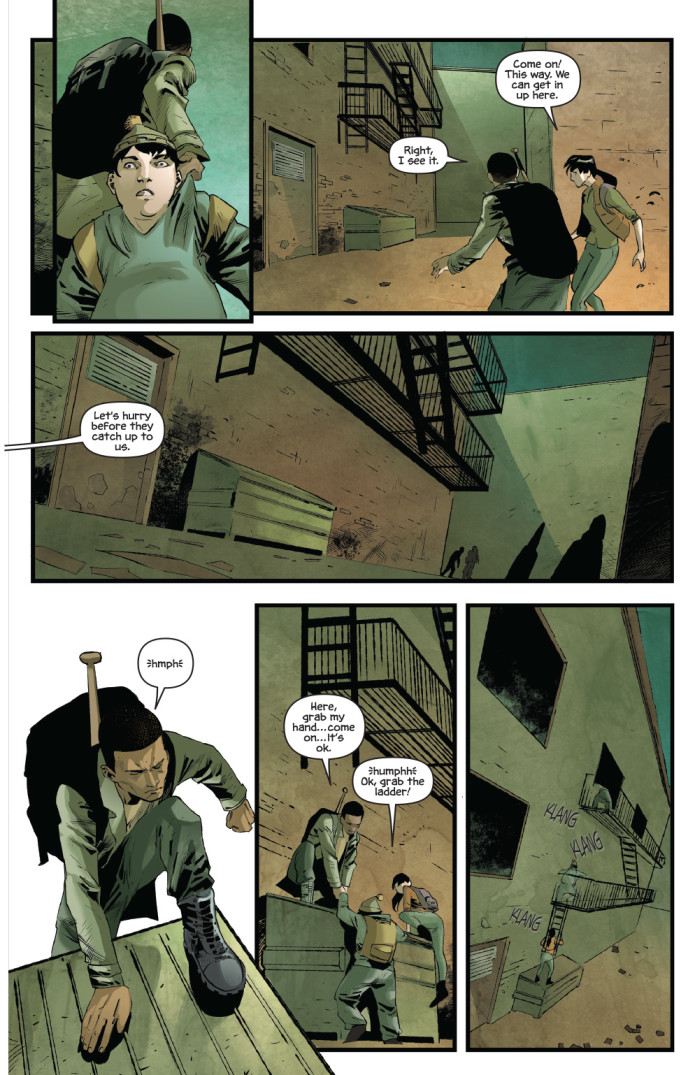 The youngest is panicking a little to to calm him down the other two look out the window and pick out zombies they see, making up stories of who they were, how long they lasted and how they died, sometimes in a funny way!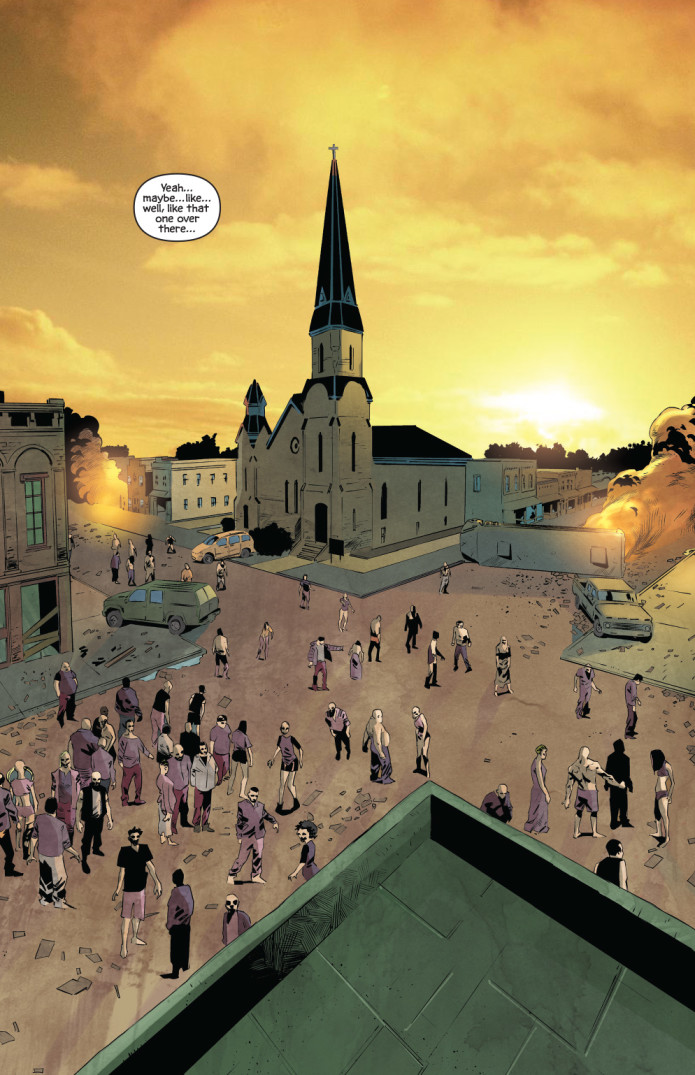 About Volume 2 Kickstarter:
About the Creator:
Austin Janowsky is a Actor/Screenwriter/Director, Professional Comicbook Artist and retired Creative Director. Austin Janowsky is celebrating working professionally in the comicbook industry for 25 years! Marvel Comics, IDW, Dynamite Entertainment, Image Comics, Devils Due/First Comics, Space Goat, Alias and others! Presently he created Zombie's We're Human Too as a 100pg Graphic Novel. As an actor, he has been lucky to be feature films that will be shown on Netflix: 45 Seconds and Three Black Men and a Jew Walk Into A Bar and also Dan Myrick's new TV series "Black Veil".
Thank you so much for reading this! Please share your thoughts with us by leaving a comment below.
For more news and reviews of horror comics like this, please support EHPodcasts by sharing this post, liking our Facebook page, subscribing to our YouTube channel , following us on Twitter ,Instagram and listening to our podcasts, now on many platforms given below:
Horror Needs You! Please Donate to Everything Horror Podcast website & podcast via PayPal to help the noble cause of promoting horror genre & indie horror creators:– http://paypal.me/ehpodcasts OR Support us on Patreon:- https://www.patreon.com/ehpodcasts
Please subscribe to our Newsletter:
Starting next month, we'll be starting our monthly Newsletters. It will cover what we did last month and focus on a little of what to expect within the month we are in. If interested you can sign up for our Newsletter with the link —> http://bit.ly/ehpnewsletter
Please check out our Horror Short Films:-
KEEP UP WITH THE PODCAST
Please Bookmark our site or Set as your Home Page:- http://ehpodcasts.com
EHPodcasts on SOCIAL MEDIA
FaceBook:- http://facebook.com/EHPodcasts
Twitter:- http://twitter.com/EHPodcasts
Instagram:- http://instagram.com/EHPodcasts
Pinterest:- http://pinterest.com/EHPodcasts
Twitch: https://www.twitch.tv/EHPodcasts
LISTEN TO US ON
PodBean:- http://bit.ly/EHPodbean
YouTube:- http://bit.ly/EHPodcastYT
iTunes:- http://bit.ly/iTunesEHP
Alexa:- http://bit.ly/EHPAlexa
Spotify:- http://bit.ly/EHPSpotify
Stitcher:- http://bit.ly/EHPStitcher
Google Play Music:- http://bit.ly/EHGooglePlay
TuneIn:- http://bit.ly/EHPTuneIn
Find us on iHeart Radio- https://www.iheart.com/podcast/256-everything-horror-podcast-31087505/
Stay Scary & Support Horror Comics!