SCOUT COMICS Direct to Retailer Program lets the comic fans support the retailers in this crucial time!
We all know that the comic book industry has been a catalyst for many movies, TV shows, cartoons, and most importantly our dreams and imagination. Due to the current outbreak, the industry needs the help of fans to keep it going.
This program lets you purchase from Scout Comics and name the nearest retailer, if closed, so that the Scout Comics gives 50% to the local comic shop. If it is open or able to deliver to you, then you simply choose your titles and inform your local shop! If your local shop is unaware of this program, request them to email Scout Comics!
Here's more information from them:
Starting tomorrow (May 1, 2020) we plan on offering our retail partners a chance to order new Scout Comic content.  These comics will be released twice a month starting in June from one of our print partners (Comic Impressions) who are only a few miles away from our headquarters here in Fort Myers Florida. 

Check out all the new titles and the old title "CATCH-UP" packs below! After you do, please reach out to your local comic retailer via phone, email, or social media over the the next two weeks (Final Order Cutoff for them is the May 14th) letting them know which comics you want them to add to your pull list.

If your local shop isn't aware of this new direct to retailers program, please have them email us at store@scoutcomics.com for more info!

There's no such thing as a perfect plan, but the best plans are built to be adaptable/changeable in my opinion and we plan on putting our best foot foraward. Again, I hope everyone the best and please let us know if we can help in any other ways!

— James Haick
President, Scout Comics & Entertainment, Inc.
Remember, if your local comic shop is still closed you will still be able to support them. We are giving them 50% of your comic or trade paperback (digital or print) order when you put your shop's name in NOTE/MEMO box at checkout. If you have any issues doing this, please email us at store@scoutcomics.com with your order number and the name of your shop!
Please feel free to copy and paste the image below on your social media channels to help
List of New Comic Releases:
Yasmeen #1
Cover Price: $3.99
Saif A. Ahmed
(A) Fabiana Mascolo
Iraq, 2014. Life couldn't be better for 16 year-old Yasmeen as her family is able to buy a big new house. Then ISIS invades Mosul.  Yasmeen's Shia family barely escapes, while Yasmeen us captured by terrorists and sees her uncle executed. Yasmeen is sold to an ISIS fighter as a slave and must relinquish her innocence in order to save her three new Yazidi friends who are punished with starvation. Two years later, Yasmeen is reunited with her family in the United States. Her parents are so happy to be reunited with Yasmeen that they fail to see the state of depression that she has fallen into after two years of slavery and torments. Now faced with a new life, Yasmeen must learn to survive in a society that both fears and hates her and must overcome the horrors of the past in an attempt to find herself again.


Everglade Angels #1
Cover Price: $3.99
Blake Northcott

Scott Lobdell
(A) John Upchurch
(C/A) Jae Lee
A wrong turn down a dead end road. A car that won't start. An unspeakable evil emerges from the darkness. No phones. No weapons. No escape. Think you've seen this all before? Think again. When a girls softball team takes a shortcut through the Florida Everglades, they veer off the path towards a night they'll never forget – drinking, dancing – one last hurrah before college starts and they go their separate ways. When they stumble into a trap set by a murderous cult, the stage is set for a night of blood-soaked carnage, but the cult has never dealt with victims who are ready to fight back.
Metalshark Bro 2: Assault On Hmazig Island  #1
Cover Price: $3.99
Bob Frantz

Kevin Cuffe
(A) Walter Ostlie
(C/A) Jorge Corona
The last we saw of Metalshark Bro, dude was transformed back into a regular shark that swam off into the sunset. It was a classic revenge mission: he killed A LOT of people, got the giant floating eyeball, ate a lot of grub, and defeated Satan's nephew. Unfortunately, this victory was short-lived. A demon hamster kidnapped his bestie, so now he's forced out of his sharky-sabbatical to fight off Cthulhu dudes, mutant alligators, magic demons, and his own aggression.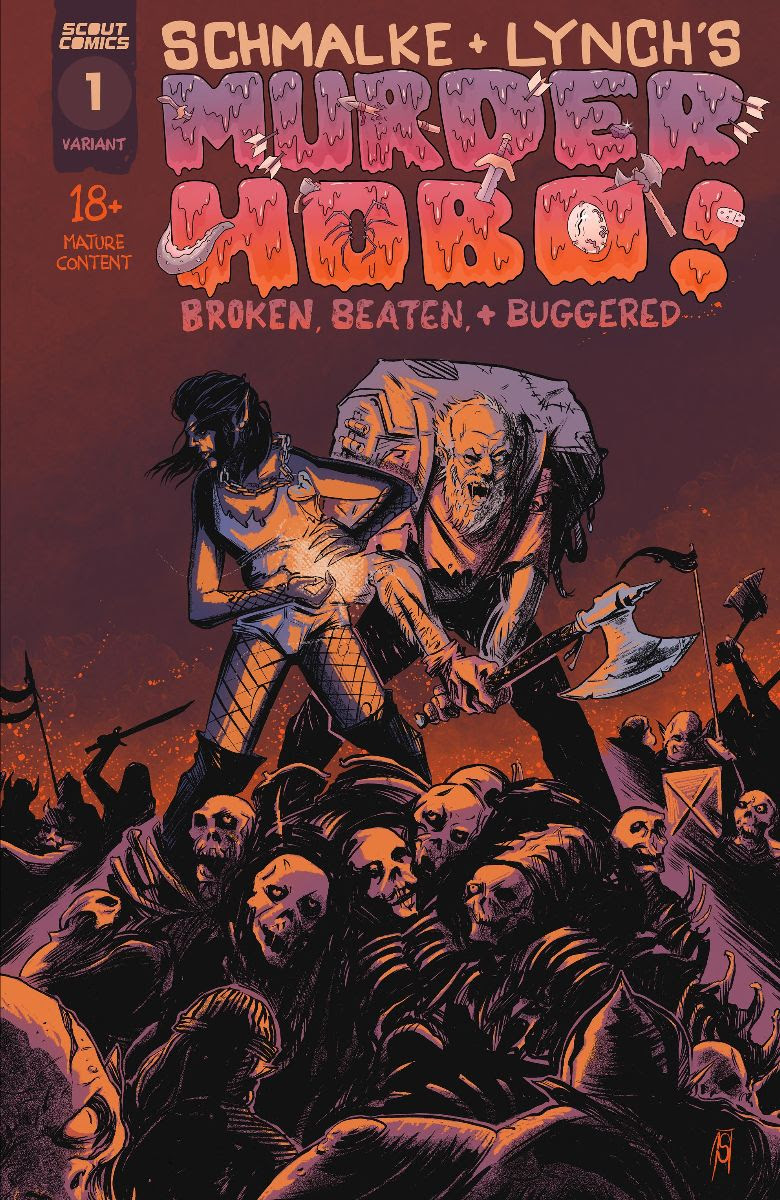 Murder Hobo #1
Cover Price: $3.99
Joseph Schmalke
(A) Jason Lynch
(C/A) Joseph Schmalke
In the Lands of High Adventure, brave bands of heroes undertake dangerous quests in search of fame and fortune. The exploits of these fearless explorers, who dare delve into the deepest of dungeons, will be sung about by the bards for eons. This is not their story. No, this is a tale of what happens when well-intentioned groups of would-be adventurers recruit the wrong kind of "hero," the dreaded Murder Hobo. Selfish assassins who thrive on illicit acts and unprovoked bursts of violence, these agents of chaos can foil even the best-laid plans. Follow the exploits of Drunk-o and Nymph-o, a pair of Murder Hobos with different methods, but the same goal: to keep all the loot for themselves.

Loggerhead #1
Cover Price: $3.99

(W/A) Bryan Silverbax
 The world as we knew it changed after the last of the great wars leaving a large portion of North America a dead wasteland. It's in that wasteland that tales of a monster only known as Loggerhead exist. Within this wasteland valuable elements and minerals have been unearthed creating a hotbed of illegal mining and overrun with scavengers. When some children find themselves endangered while witnessing an illegal scavenger mineral hunt a protector rises from the murky depths of the wasteland to exact retribution

.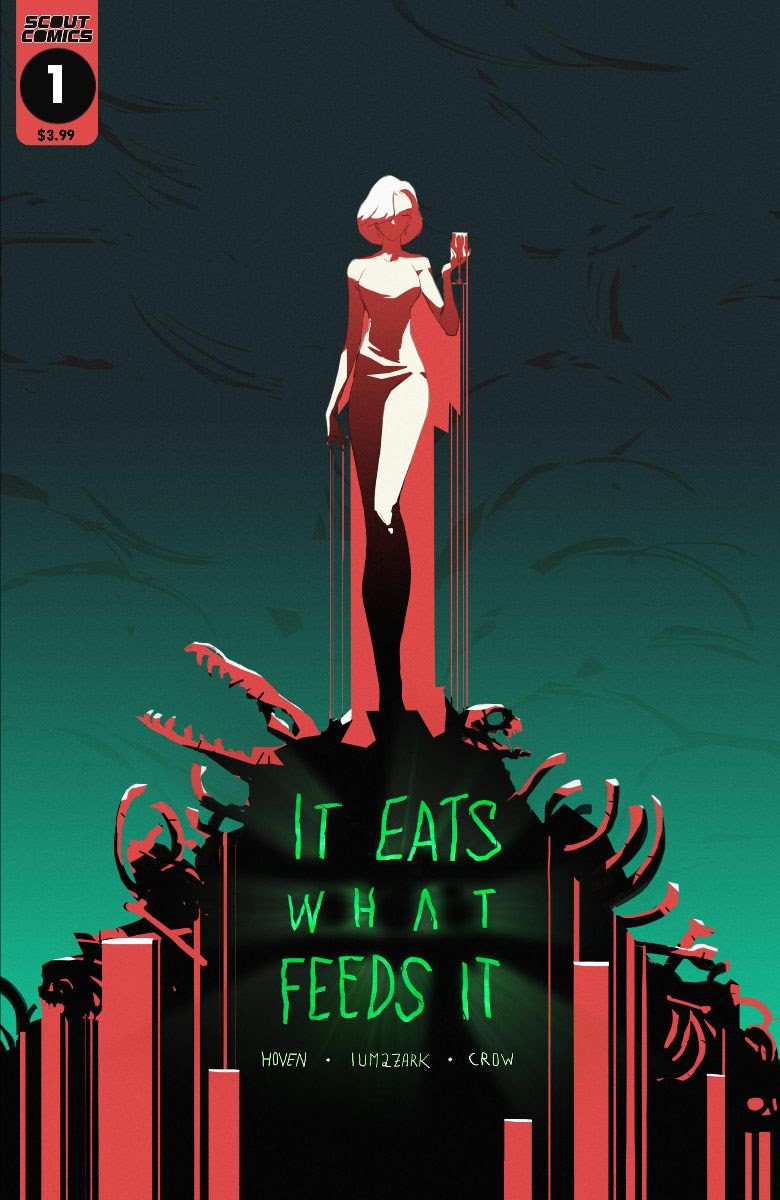 It Eats What Feeds It #1
Cover Price: $3.99
Max Hoven

Aaron Crow
(A) Gabriel Lumazark
In this grimy horror romp, Francois, a stunning middle-aged woman, has developed a worsening affliction and seeks a young caretaker to upkeep her lavish creole mansion deep in the mystic bayou of Louisiana.  Kenny, a teenage halfwit looking for a summer job, stumbles right to her doorstep. Free rent, free meals, high pay, easy work, and a provocative boss… what's there for Kenny to refuse? Well, there's the blood-covered kitchen spilling over with raw meat and the bolt-locked steel-plated attic door he's restricted access to. Are these red flags worth the risk of missing out on a wild summer romance?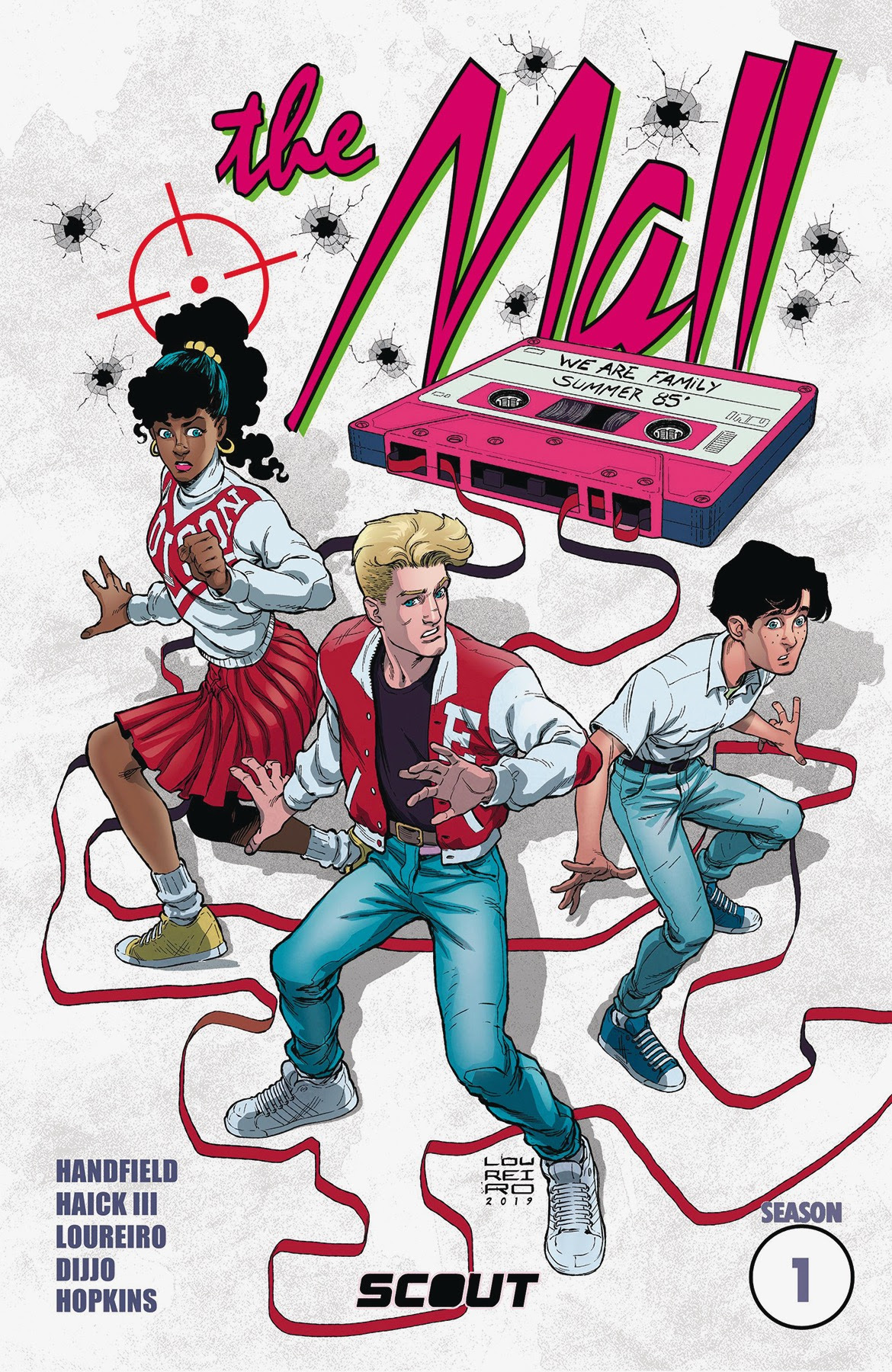 The Mall – Trade Paperback
Cover Price: $19.99
James Haick

Don Handfield
(A) Rafael Loureiro
 This coming of age crime story takes place in a small Florida town at the height of the popularity of indoor malls. When the head of the Cardini Mob Family mysteriously dies, his three illegitimate children each inherit a store in the mall. While the stores front as legal businesses, the real money is in the illegal businesses. The kids are thrust into a world of crime, all the while just trying to survive normal high school life. Collect issues #1 – #6 of the 1st season!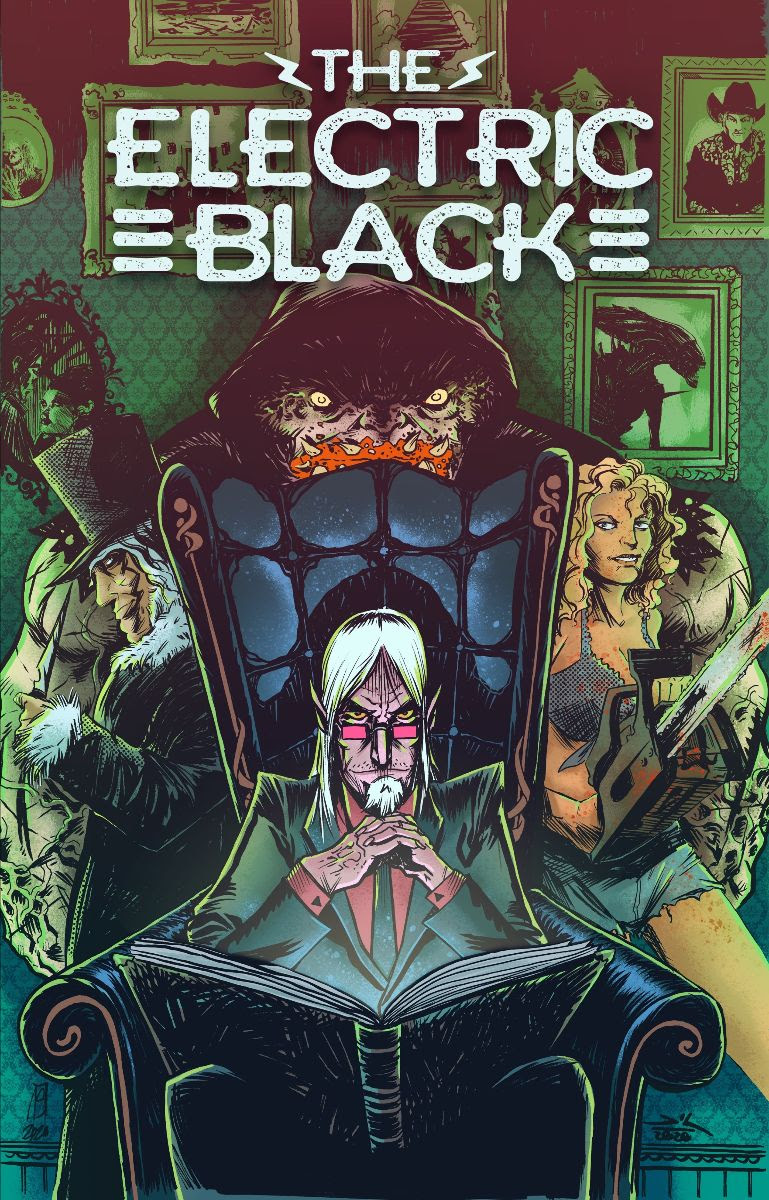 The Electric Black – Trade Paperback
Cover Price: $19.99

(W/A) Joseph Schmalke
(W/A) Rich Woodall
(C/A) Rich Woodall
 Dare you step within the sinister halls of The Electric Black? A doomed ship infested with demonic rats, an elixir of life that devolves people into blood craving monsters, and a nefarious necklace with apocalyptic properties all await you inside. The cursed antique shop calls out, appearing in any time or space, soliciting new customers that it hungers to corrupt or devour. The poor souls that enter never leave empty handed. Its dark light will shine on macabre mysteries, grisly murders, and other frightful occurrences. This inaugural volume collects the first four issues of the quarterly, ongoing series, containing exclusive bonus artwork and a special cover gallery.
Wretches Catch-Up Pack
Combined Cover Price: $19.95
James E. Roche
(A) Salo Farias
CONTAINS
WRETCHES #1 – #5 

Alone on the tough streets of an alien city, far from the lifeless planet they once called home, siblings Shea and Sean spent their youth struggling to survive. Still suffering emotionally from the loss of everything they'd ever known and loved, Shea and Sean have nothing else in the universe but each other. Forever outrunning the horrors of their past, they survive the only way they know how- by hunting and killing sentient robots for profit! Now, when the rough path that they had no chance to follow finally catches up to them, will they be able to keep each other safe or will they lose the only important thing they have left, each other?


Wretches #6
Cover Price: $3.99
James E. Roche
(A) Salo Farias
Shea's execution is today, and all bots are tuned in to watch the show, however reluctant some may be. Having just about given up all hope only Sean and his crew of misfits can save her. When they infiltrate the bot settlement for one final battle, will they all walk out alive, or will their bodies be the first of many in the next robot revolution?
Midnight Sky Catch-Up Pack
Combined Cover Price: $15.96
James Pruett
(A) Scott Van Domelen
CONTAINS
MIDNIGHT SKY 
Cover A's #1 – #4 

Midnight Sky is Invasion of the Body Snatchers meets They Live. What would you do if you discovered your son wasn't really your son? He may look like him, act like him, but deep down in your soul you just know… he's been replaced. Then your worst fears are realized when the light hits his face just right and you accidentally see his true appearance for yourself. But he isn't the only one you discover… your neighbor, your friend, even your husband. Do you scream? Do you run? Or do you fight back? And how can it be that your daughter is the best and, perhaps, last hope for mankind?

Midnight Sky #5
Cover Price: $3.99
James Pruett
(A) Scott Van Domelen 
 After their harrowing experience in the amusement parks of Orlando, Jennifer, Alejandro and Elita begin the treacherous journey to the Changeling stronghold of Cape Canaveral, where Jennifer has discovered may be a portal to the Changeling's dying world hoping to finally bring back her biological son. But to do this would require sacrificing Alejandro. Is she willing to bear the cost? Meanwhile, resentment continues to build between Elita and her mother when Elita discovers that by killing changelings she is condemning the humans whose forms they have taken to forever be banished to the Changeling's dying home world, never to return. And if things weren't treacherous enough, something monstrous is slithering in their path in the swampland.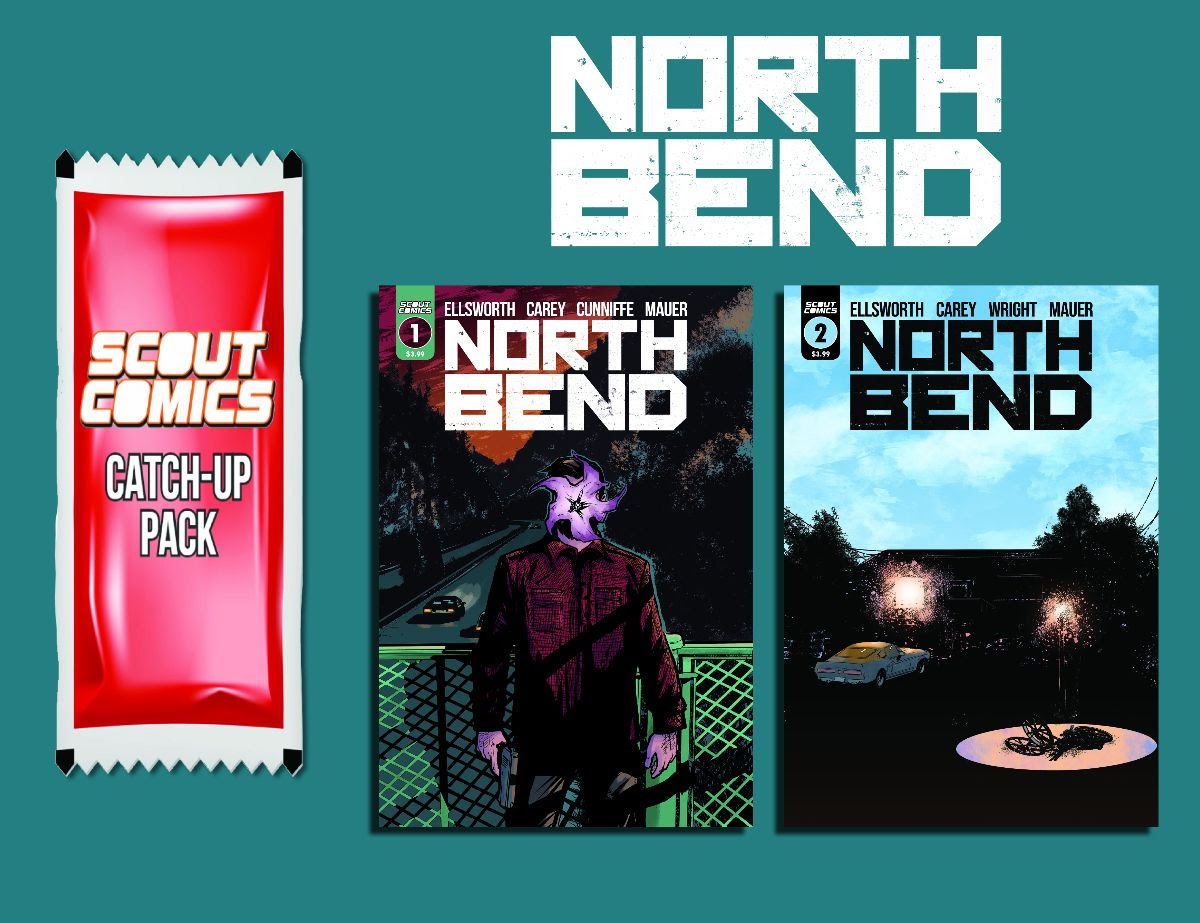 North Bend Catch-Up Pack
Combined Cover Price: $7.98
Ryan Ellsworth
(A) Rob Carey
CONTAINS
NORTH BEND #1 Cover A and North Bend #2

In the not too distant future, the U.S. is at war — against Russia, and its own people. The country is on the verge of economic collapse and political revolution. Desperate to regain control, the CIA recruits Seattle DEA Agent Brendan Kruge to test an experimental mind control drug on unwitting Americans. Compelled by his sense of duty to his country, Brendan struggles to keep his life from falling apart as he tries to reconcile his personal beliefs with the security of the nation.

North Bend #3
Cover Price: $3.99
Ryan Ellsworth
(A) Rob Carey
DEA Agent Brendan Kruge receives his first MKUltra target, and the success of the job could mean life or death for Annie. But before the experiment can even begin, a surprise betrayal throws everything off the rails. Meanwhile, Jamie's investigation takes her one step closer to discovering the clandestine CIA mind control program.

SCOUT COVER GALLERY COLORING BOOK
Combined Cover Price: $9.99

(A) VARIOUS SCOUT ARTISTS
(DESIGNER) RICHARD RIVERA
(COVER DESIGN) BRYAN SILVERBAX
We are proud to present the Scout Gallery Coloring Book.  Over 40 of Scout's titles are featured in this 90-page Special!  The Scout Gallery showcases an incredible range of artwork including: Scout's classic ongoing series; our hottest new releases; and even Scout Premieres of future titles.  That's right, several brand-new series will make their first appearance here!

 
Each page features full-page artwork on the front!  On the back, there's a smaller image and information about the series, including title, description, and brief synopsis!  It's the perfect opportunity to have fun, enjoy the artwork, and get introduced to our titles.
Thank you so much for reading this! Please share your thoughts with us by leaving a comment below.

For more news and reviews of horror comics like this, please support EHPodcasts by sharing this post, liking our Facebook page, subscribing to our YouTube channel , following us on Twitter ,Instagram and listening to our podcasts, now on many platforms given below:
Horror Needs You! Please Donate to Everything Horror Podcast website & podcast via PayPal to help the noble cause of promoting horror genre & indie horror creators:– http://paypal.me/ehpodcasts
Please check out our Horror Short Films:-
KEEP UP WITH THE PODCAST
Please Bookmark our site or Set as your Home Page:- http://ehpodcasts.com
EHPodcasts on SOCIAL MEDIA
FaceBook:- http://facebook.com/EHPodcasts
Twitter:- http://twitter.com/EHPodcasts
Instagram:- http://instagram.com/EHPodcasts
Pinterest:- http://pinterest.com/EHPodcasts
Twitch: https://www.twitch.tv/EHPodcasts
LISTEN TO US ON
PodBean:- http://bit.ly/EHPodbean
YouTube:- http://bit.ly/EHPodcastYT
iTunes:- http://bit.ly/iTunesEHP
Alexa:- http://bit.ly/EHPAlexa
Spotify:- http://bit.ly/EHPSpotify
Stitcher:- http://bit.ly/EHPStitcher
Google Play Music:- http://bit.ly/EHGooglePlay
TuneIn:- http://bit.ly/EHPTuneIn
Find us on iHeart Radio- https://www.iheart.com/podcast/256-everything-horror-podcast-31087505/
Stay Scary & Support Horror Comics!