Developed by Broken Arrow Games, and published by Hydra Games SA, A game which shows you the world through the eyes of a child abducted in a basement by a creepy masked guy…. Can you escape the basement and its darkness before it drives you insane?
Short Synopsis:
Don't Be Afraid – The First Toy, is an introduction to the dramatic story of a boy kidnapped by a psychopath. Exploring the giant house of your torturer you will soon discover things worse than your childish nightmares. Take on the role of Jamie and see what phrase "The First Toy" actually means.
Don't Be Afraid The First Toy Horror Game (First 15 minutes Gameplay- Low Settings):–
Review & Thoughts:
This game is supposed to be a prequel to a horror game called "Don't Be Afraid", and does a great job of showing the basic gameplay, and atmosphere of the full game.
The game feels scary from the start menu itself, and things keep getting scarier as you continue playing. The most notable thing being the mannequins which keep changing positions every time you look away from them, and makes you nervous as much as the child you're playing as. The puzzles are basically find an item, and use it to acquire a key, or in some cases, find the hidden keys from the level to move on. There are some movement puzzles too, like some mannequins will blow off your candle and without candle, some areas are not accessible as the game portrays the fear of darkness that almost every child has (and some adults too).
Overall, this being a free offering is a must try to get a taste of the full game. This is well made, and doesn't even feel like a demo, but an actual standalone game. This prequel helps the players to know the technical requirements of their hardware to before the full game is released.
ABOUT THIS GAME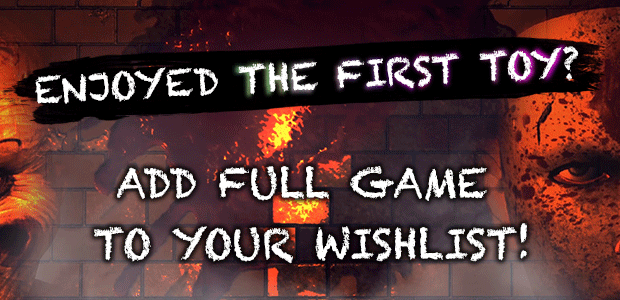 "The First Toy" is a standalone story that shares a word with "Don't Be Afraid" , a horror adventure game.
Take on the role of a child, and try to survive in the terrifying property of the psychopathic kidnapper. Keep your cool to get out of the madman's clutches. Nothing is as it seems here, but don't be afraid…unless you already are?

Your name is Jamie, you are young boy and this story will completely change your life.
If you survive…
You wake up in a terribly dark cellar, surrounded on all sides by terrifying noises and strange unknown items that you didn't even dream of in your nightmares. You are vulnerable and completely alone. Shreds of memories, without any logical connections, flash inside your head. Is someone detaining you? How did you get here?
With every step you make, you will get further from your innocent past. The frightening truth awaits.
The fate of an victim is sealed once it is in the hands of a sadistic psychopath.
If you want to survive, grow up. Quickly.

Take on the role of a child and see how he sees the world,
Find the notes describing the story and find out who is responsible for your kidnapping,
Survive a clash with a terrifying psycho,
Solve the riddles that will get you out,
Try to escape the psychopathic killer.
MATURE CONTENT DESCRIPTION
The developers describe the content like this:
This Game may contain content not appropriate for all ages, or may not be appropriate for viewing at work: Frequent Violence or Gore, General Mature Content
Thank you so much for reading this! Please share your thoughts with us by leaving a comment below.
For more news and reviews of horror games like this, please support EHPodcasts by sharing this post, liking our Facebook page, subscribing to our YouTube channel , following us on Twitter ,Instagram and listening to our podcasts, now on many platforms given below:
Horror Needs You! Please Donate to Everything Horror Podcast website & podcast via PayPal to help the noble cause of promoting horror genre & indie horror creators:– http://paypal.me/ehpodcasts OR Support us on Patreon:- https://www.patreon.com/ehpodcasts
Please subscribe to our Newsletter:
Starting next month, we'll be starting our monthly Newsletters. It will cover what we did last month and focus on a little of what to expect within the month we are in. If interested you can sign up for our Newsletter with the link —> http://bit.ly/ehpnewsletter
Please check out our Horror Short Films:-
KEEP UP WITH THE PODCAST
Please Bookmark our site or Set as your Home Page:- http://ehpodcasts.com
EHPodcasts on SOCIAL MEDIA
FaceBook:- http://facebook.com/EHPodcasts
Twitter:- http://twitter.com/EHPodcasts
Instagram:- http://instagram.com/EHPodcasts
Pinterest:- http://pinterest.com/EHPodcasts
Twitch: https://www.twitch.tv/EHPodcasts
LISTEN TO US ON
PodBean:- http://bit.ly/EHPodbean
YouTube:- http://bit.ly/EHPodcastYT
iTunes:- http://bit.ly/iTunesEHP
Alexa:- http://bit.ly/EHPAlexa
Spotify:- http://bit.ly/EHPSpotify
Stitcher:- http://bit.ly/EHPStitcher
Google Play Music:- http://bit.ly/EHGooglePlay
TuneIn:- http://bit.ly/EHPTuneIn
Find us on iHeart Radio- https://www.iheart.com/podcast/256-everything-horror-podcast-31087505/
Stay Scary & Support Horror Games!